Sponsored links
The festival of Brother-Sister love and affection, Raksha Bandhan, will be observed across the country on August 10, 2014.
The festival is also popularly used to celebrate any brother-sister like loving protective relationship between men and women who are relatives or biologically unrelated.
Raksha Bandhan is an ancient festival, and has many myths and historic legends linked to it. For example, the Rajput queens practised the custom of sending rakhi threads to neighbouring rulers as token of brotherhood.
On Raksha Bandhan, sisters tie a rakhi (sacred thread) on her brother's wrist. This symbolizes the sister's love and prayers for her brother's well-being, and the brother's lifelong vow to protect her. The festival falls on the full moon day (Shravan Poornima) of the Shravan month of the Hindu lunisolar calendar.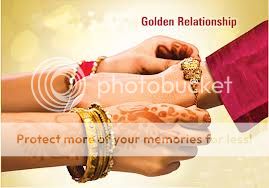 Here are some Raksha Bandhan 2014 Quotes and
Images
Rakhi it's not a thread its a bond of protection
Holi is colourful,Diwali is lightful and brightful,Rakhi has made our relationship POWERFUL.
Your love makes me feel proud.And on this day I want to shout it out loud.Happy Raksha Bandhan my sister.
My Dear Brother is one of the most precious gift sent by God.Happy Raksha Bandhan to you.
There is a little boy inside the man who is my brother ... Oh, how I hated that little boy. And how I love him too.
Today Is Rakhsha Bandan And U R Not Here By My Side..But We R Close In Each Others Thought And My Love Will Always Be With U
"I am tying a Rakhi on you, like the one on mighty demon king Bali. Be firm, O Rakhi, do not falter."
Best wishes are coming strait from the Heart' because you are such a lovely Brother and a true sweetheart Happy Raksha Bandhan Messages 2014
Hey didi you are the best. Do you know why? Because I am your brother.
Rakhi is just an excuse for me to express myself: You mean the world to me. Happy Raksha Bandhan